WIFFLEFIST on BANDCAMP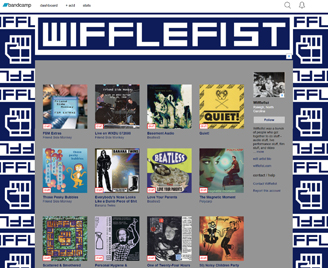 Most everything that was ever recorded on the WIFFLEFIST label is NOW AVAILABLE on BANDCAMP.COM!

Thanks to Ian Shannon, longtime WIFFLEFIST veteran, for his tireless efforts in rescuing these audio gems from a variety of ancient media in order to present them to the public on our 30th anniversary.

This represents many months of work & research.
DIG IN and enjoy!
WIFFLEFIST 30th Anniversary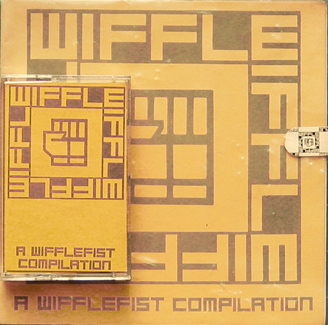 The year 2020 marks THIRTY YEARS since our initial 'A Wifflefist Compilation' cassette only release was unleashed upon an unsuspecting NC music scene.

We're celebrating by scanning our image archives to post here, and creating a Bandcamp.com page for tons of WIFFLEFIST audio projects from way back when.

Soon we plan to make a limited quantity of the classic WIFFLEFIST logo T-Shirt...so keep checking this site and the WIFFLEFIST Facebook page for news on that.
SILICA-GEL Deluxe Vinyl 2016
Silica-Gel's "50) Noisy Children Party" album Re-Issued in 2016 as a deluxe DOUBLE VINYL LP!
(Originally released in 1993 on CD only)

Deluxe Limited Edition of 500 Numbered Copies.

180g Colored Vinyl

Bonus Tracks & Gatefold Cover

Inner sleeves each rubber-stamped by hand.

BUY NOW!